Innovative Manufacturing Services & Carryline USA
Innovative Manufacturing Services is committed to bringing quality engineering solutions to the most challenging material handling situations.   With our commitment to service and customer satisfaction we at I.M.S., pride ourselves in working with our customers to provide customized conveyor systems.   In 2006, Carryline USA was added as a valuable asset when it became a division of I.M.S.
Carryline Conveyor has a long history of success that can be traced back to Sweden in 1963 when Carryline's story began.  The market interest for this new conveyor design contributed to the rapid growth of the company and distribution channels considered giving rise to Carryline USA.  I.M.S., together with Carryline USA brings a wealth of knowledge and experience to the table for conveyor equipment & conveyor system design, automation, controls, project management, and integration. The many years of experience allow our team to ensure the success of each project.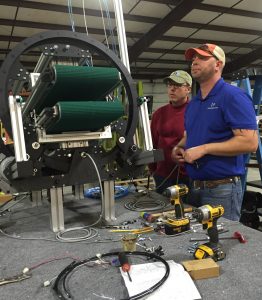 Captivating Solutions With Your Unique Business Model In Mind
When the lifeblood of your business is speed and precision, the right conveyor manufacturer for your business has a big impact on multiple facets that ultimately affect your bottom line.  There are many aspects to consider when opting for the right conveyor system.  It is important to have the right company working for you to address issues such as specific product handling, environmental issues, safety, available floor space, reliability, maintenance requirements, and the longevity of solutions.  We understand that these aspects are important to delivering the return on investment expected.   We speak to those needs with on-point deliverable unique to each business.  What are your challenges?  What is your vision for a successful solution?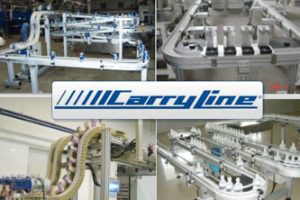 Selecting the right type of conveyor is paramount for success to your business. How do you know which one is right for you? If you are in the market for a manufacturing change, consider whether a new conveyor system will meet your expectations for predictable performance? Are your safety concerns and maintenance demands in need of an assessment?
Would implementing a change in the type of conveyor, or system brings big changes that result in higher efficiency and profit? These are questions that I.M.S. is ready to tackle not just for you but with you to effectively design and compliment your business model.  Take a look at our options for plastic chain conveyors with aluminum, powder coated mild steel and stainless-steel options for frame construction.
Plastic & Stainless-Steel Conveyor Systems
Carryline USA brings highly customizable material handling solutions to your business.  Plastic chain conveyor systems aide in space-saving making the most of your floor space.   Do you need to conserve more space in your current operation?  Are you looking to find a customizable conveyor for a new product line?  Is a lower maintenance predictable performing conveyor what your business requires?
Our plastic chain conveyor system can minimize the space used without compromising efficiency and productivity.  Our customizable options can reduce the length of a conveyor system in even the most challenging settings. Different chains options bring answers to specific product handling both horizontal and vertical.  Plastic chain conveyor systems can bring these values to your business model and address your current challenges.
Stainless steel conveyors are also provided to meet sanitary needs. These conveyor systems are well designed to offer efficient and effective cleaning for packaged food handling, pharmaceutical, and other operations when required.
Let I.M.S. Go to Work For You
Having the right conveyor manufacturer at your fingertips with the ability to navigate conveyor challenges to find unique solutions has a big impact on your business.  If you need a plastic conveyor system, I.M.S. and Carryline USA have it covered with exceptional experience with conveyor equipment or systems customized specifically for your industry, product, and facility.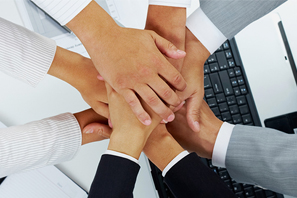 Social Share