Customized for the Wine & Spirit Industry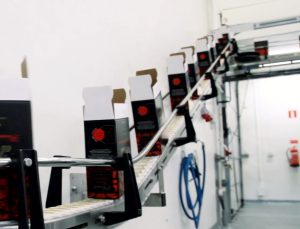 We specialize in providing high quality material handling systems and integration equipment to a variety of production facilities, warehouses and distribution centers that handle beverage products like wine and spirits. The systems used in the beverage industry can range from very simple conveyor belts that rely on forward momentum to get product from one place to another to more complex, heavily automated and totally mechanized equipment that is designed to transport more heavy-duty items. Our systems can transport individual cans and bottles as well as packed cases and boxes, various plastic containers and beverage cartons. Our heavier duty systems can even transport pallets.
As the beverage industry changes, we are seeing many retailers ordering mixed SKU packages that contain many different items rather than large pallets of just one item. Our automated systems are perfectly capable of keeping up to date with the changes in retail practices and handling these mixed SKU pallets.
Additionally, in the wine and spirits industry, items are often required to be held at specific temperatures to ensure that the integrity of the beverage is not compromised. We can help with temperature control systems, and can certainly integrate our systems to work with any temperature controls that you already have in place in your facility.
Our innovative light and medium duty conveyor systems, UL approved control panels, automation abilities and more can be customized to meet the needs of your facility and the size of your business. We understand the needs of the wine and spirits industry and can design systems to ensure the efficient, careful, temperature controlled and reliable production, packaging and distribution of your wine and spirits products.