Plastic Conveyor Systems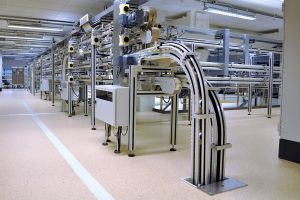 Carryline USA expertly creates plastic chain conveyor systems that benefit many varying industries, and increase material handling efficiency. With streamlined utilization of space in mind, our plastic chain conveyor systems create vertical or horizontal solutions for any commercial layout. Additionally, our thoughtful production parlays space saving techniques, such as the implementation of small radius turns, reducing the conveyor length required for any manufacturing process.
Made of durable Acetyl, our chains, made of segmented links, provide radial flexibility, and can be skillfully applied to the most challenging applications. In order to meet the needs of all manufacturing processes, we offer various functional chain styles, including high temperature, friction, gripping, and other useful variations of specialty chains.
Our plastic modular belts are ideal for minimizing the manufacturing space in your facility, while simultaneously meeting the goals of throughput, and gentle product handling. As the Master Distributor of Carryline equipment in North America, we understand the role of highly efficient equipment in creating a successful, thriving, and streamlined manufacturing process. We are proud to exceed the needs of our customers, and provide the means to a fruitful operation.
Plastic Chain Conveyors
Our plastic chain conveyors offer exceptional benefits, valuable for many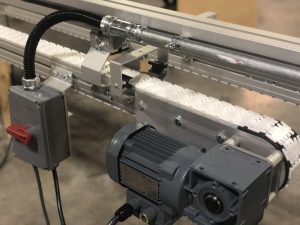 applications. Plastic chain conveyors are low-wear, and low-maintenance choices, and offer low-failure transportation. In addition, all of our aluminum and stainless steel conveyors come in a variety of useful designs, including spiral conveyors, side grip conveyors, top grip conveyors, and alpine conveyors. Regardless of structure, all of our conveyors offer space-saving, efficient, and reliable options for any sized manufacturing operation. With our wide range of durable modular conveying options, we offer customized conveying solutions for a vast array of industries.
Other Products
In addition to the expansive selection of conveyor systems, we also offer lift gates, pin stops, traffic cops, and many other accessories that streamline, assist, and perfect the manufacturing process.
Our turnkey systems are completely customized to fit your specific manufacturing process. Each plastic conveyor is designed with its' usability in mind, and each accessory is chosen dutifully. Prioritizing employees as your company's most valuable asset, all of our systems are designed with user safety in mind, exemplifying the highest safety standards.
Why Choose Carryline USA?
As one of the industry leaders, the team at Carryline USA prides itself on always going beyond customer expectation, aiming to exceed all perceived possibilities. We remain unwavering in our confidence that our knowledgeable staff can successfully assist you in any stages of facility development. Whether you are in the beginning stages of an initial facility set-up, upgrading equipment, or expanding operations, let Carryline USA lead the way!
Whether you have a plastic chain conveyor need, require a specialized modular systems, or want to expand an already existing conveyor system, we have the solution for your manufacturing operations. Contact us today, and let us assist your company, from design to build out, in the creation of a system that will streamline any business.