Specialty Equipment
Carryline USA has many diverse solutions to meet all your conveying needs. From alpine conveyors to spiral conveyors for leaving a smaller footprint in your facility to side and top grip conveyor systems for handling unique product needs, Carryline USA works with you to address your manufacturing and packaging challenges in a way that is energy efficient and saves space, as well as saving you time and money.
Alpine Conveyors
Our alpine conveyors work by allowing products to accumulate, providing time on the downstream end of a process line for slower processes to prevent manufacturing errors and backups. Our alpine conveyors slow traffic on your line while keeping everything moving smoothly and can be customized for nearly any purpose or product.
Spiral Conveyors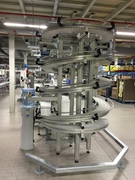 The Carryline Spiral conveyor is a very compact and reliable vertical solution.  We design our spirals to meet our customer product requirements with chain widths available in 83mm, 140mm, and also 220mm.
The Carryline Spiral conveyor is very flexible is built using standard components special chain chain design. The infeed and discharge heights, as well lengths are customized to meet your material handling goals.
Our spirals are capable of handling loads up to 50 lbs. per linear foot.  Friction chain is often used for these non-accumulating spirals to minimize the tiers required and cost.
Side and Top Grip Conveyors
Side and top grip conveyors are used to safely and gently vertically convey your products or packaged goods to the next step of your process.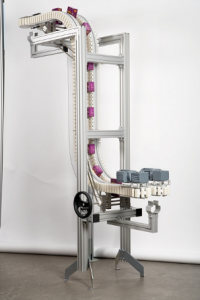 Like all Carryline specialty equipment, these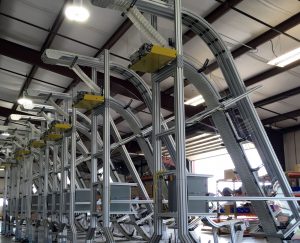 can be customized to meet your elevation and footprint requirements.
For more information about Carryline and our versatile solutions to your manufacturing and distribution needs, please contact our knowledgeable representatives.
[cta id="3345″ vid="0″]