Aluminum Conveyors
Our aluminum conveyors offer you improved flexibility, with vertical and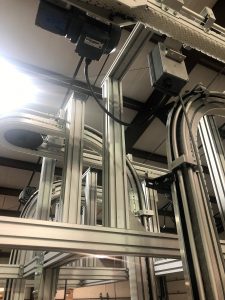 horizontal solutions for your manufacturing facility.  Our side flexing plastic chain conveyor design with aluminum construction offers the opportunity lighter weight and more cost-effective material handling options to support your manufacturing process.
The aluminum conveyor has continuously increased in popularity due to the gentle handling of products it offers, as well as cost-effectiveness of aluminum construction. In addition aluminum conveyors with side flexing plastic chains are very quiet and can be a significant contributor to lowering the equipment noise, which contributes to a better work environment for your employees.
Choose from our Aluminum or Stainless Steel constructed equipment fitted with the right conveyor chain for your product handling needs.  Our flexible conveyor system solutions have contributed to the success of many businesses across many industries.
Why Choose Carryline USA?
The demand for flexible and cost-effective aluminum conveyor solutions continues to be high for new and historical manufacturing markets.
As the Master Distributor of Carryline equipment in North America, we are confident in our ability to fulfill all the needs of your new or existing facility.  Carryline AB revolutionized the conveyor industry in 1963 with the invention of the plastic side flexing conveyor chain belt. Since 2006, we have supported North America directly, or through our distribution network.
We use our 20,000-square foot facility as a stocking location for new component or replacement parts, assembly of conveyor equipment, a build center for turnkey systems, and for factory acceptance testing. If you have a conveyor need, we have the solution using our conveyor chain, or with other conveyor belt options.
What We Offer
Our Carryline Aluminum Conveyor System allows for various chain widths, from 24 to 220 mm. The standard sizes we offer in aluminum conveyors are:
24 mm
38 mm
62 mm
83 mm
140 mm
220 mm
Below you will find an image of each product size we offer accompanied by a video with an up-close look at how our systems work.