Conveying Solutions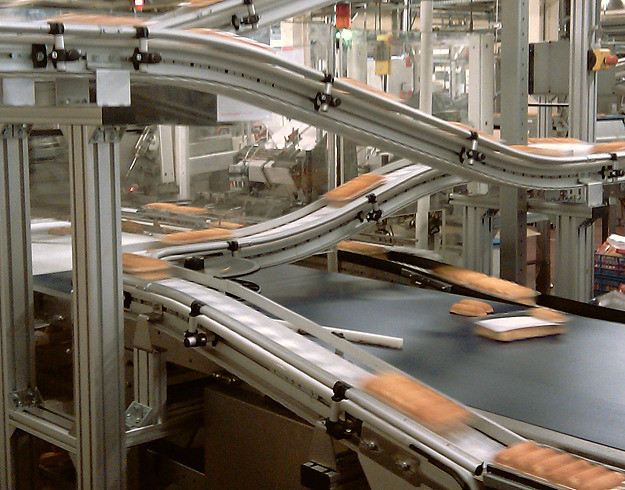 Carryline USA has been in the business of helping companies since 2006.  We have a wide range of durable modular conveying options for nearly every industry. From manufacturing to packaging, our conveyor systems can help automate your processes from the start to finish.
Contact us today to talk to our knowledgeable representatives about our solutions that can help you manage your process more efficiently.

Chain Options
Our conveyor equipment is equipped with wear-resistant, smooth Teflon infused Acetyl plastic top chains.  Options such as carriers, friction, brush, gripping, high temperature, anti-static, and other chain styles are available to fit your process. We offer a broad range of chain types which enable us to provide the right solution for practically any conveying purpose.
The conveyor chains are guided on slide rails made of high-molecular polyethylene, guaranteeing low-wear, low-maintenance and low-failure transportation.
Creating Solutions
Carryline has many specialized solutions for manufacturing requirements where space is a premium.
To compliment our conveyors we also offer side & top gripper conveyors, single or multi-lane spirals & alpine equipment, and elevators that allow us to safely and efficiently get your product from the start to finish. We also offer twin track conveyors for larger product handling, and pallet & puck systems to work with manual or robotic type systems.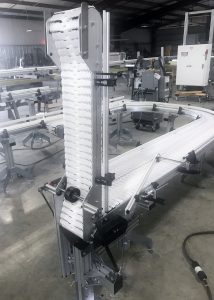 We also have a wide variety of conveyor accessories for stopping, transferring, and other type traffic control that may be required when manipulating goods and packaging.
Ask us about our lift gates, pushers, diverters, transfers, traffic cops, squeeze stops, pin stops, pop up transfers, and lifts and rotate accessories.
Let us help your company design and build a material handling system that can efficiently move your product with a minimal footprint in your facility.  Our flexible modular conveyors allow us to provide material handling systems that meet your material handling needs while minimizing the footprint required in your facility.