Our team at IMS comes with an amazing 132 years of combined controls experience. With our expert knowledge, we extensively searched and found the most reliable and secure option in VPN gateway technology. We discovered eWon as the solution keeping network security as a top priority. This valuable option will not compromise your IT department firewall security for your conveyor control systems. Here are just a few wonderful benefits and values we can bring to you.
Save Time
Quick access to aid your on-site staff to troubleshoot.
The VPN allows remote modifications or additions to a systems HMI, PLC program, etc.
eWON (www.ewon.biz) has provided a reliable and secure VPN gateway solution to our existing customers for years.
Save Money
Improving production downtime with quick access for troubleshooting.
Save the costs associated with traveling to your facility.
Network security topics are listed below to address frequently asked questions.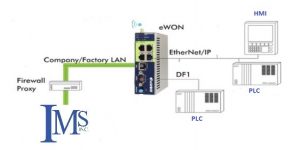 How does an eWON work?
eWON industrial routers (DIN rail mounted, 24VDC) are built to fit within the automation control panel. It communicates with both Ethernet and serial devices.
The eWON device makes an outbound connection via UDP or HTTPS to our cloud-based VPN servers (Talk2M).
Using our VPN client eCatcher, authorized users can log into their FREE Talk2M account and connect to their eWON device from anywhere in the world.
The Talk2M server acts as a secure broker and completes the encrypted VPN tunnel between the remote user and the equipment connected to the eWON.
Will my network be accessible by the remote user?
No, the eWON router provides segregation between WAN and the LAN machine subnet.
The remote user only reaches the devices connected directly to the eWON's LAN. The factory network cannot be accessed.
It is compatible with existing factory networks; Outbound connection across the factory LAN using port 443 (HTTPS) or UDP 1194 is typically available. Firewall settings, routing policies, open ports or added exceptions would not be necessary.
The customer keeps local VPN control by use of a key switch or HMI button to the eWON's digital input to manually enable or disable the VPN connection on site.
Two-factor authentication – Your Talk2M account security can be enforced by activating the 2 Factor Authentication when users need to log in.
The additional Security information can be found on the eWon website.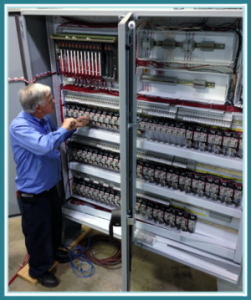 The control system designed by our engineering team utilizing eWON VPN technology at IMS has a proven track history. It has been a reliable asset and an unsurpassed tool in customer support. With our systems, we have come through every time to support our existing customers through their short "new system learning curve." Our team can easily help you too.
At Innovative Manufacturing Services, our controls team focuses on keeping your automated conveyor system running optimally. Our controls engineers are available when you need them. IMS is there for you to help maintain manufacturing processes, conveyor automation design, product testing, specialty equipment design and much more. Let us help you keep your profits in motion.
Social Share